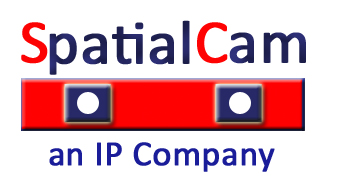 ---
Spatial Cam LLC is the owner of a portfolio (download here) of Intellectual Property (IP), including pending patent applications with the USPTO and issued U.S. Patent Ser. No. 8,164,655 related to cameras to generate registered images; U.S. Patent Ser. No. 8,355,042 , issued U.S. Patent Ser. No. 8,416,282 related to a camera for creating a panoramic image and issued U.S. Patent Ser. No. 9,171,221 related to a camera to track an object. Registered images herein are still or video images in a panoramic view and/or in a stereoscopic view and generated in real-time on a camera phone.
Creating real-time panoramic videos is not a trivial matter and no simple smartphone based panoramic video systems are believed to be currently available on the market. Smartphones and cameras are on the market that create panoramic photographs, generated from two or more separate images that are stitched together. Usually a "sweep" has to be performed to record multiple images that are then combined or "stitched" into a single image. This "sweep" approach is very well illustrated in this video by Sony® of the Sony® TX7 Cyber-shot Camera with Taylor Swift on YouTube.
Evidently, the sweep approach cannot be used to generate a real-time video. A real-time panoramic video recording capability on a smartphone would most likely appeal to a very broad audience.
Camera and camera applications (including applications using dual cameras and "glasses" based cameras), often combined with Augmented Reality, will be very important differentiators in the extremely crowded and competitive smartphone business. Spatial Cam's panoramic inventions provide such differentiation. These and other Spatial Cam inventions that provide unique and distinguishing smartphone cameras include:
Patent 9,171,221 relates to automatically tracking an object by a first camera on an actuated platform by tracking the object with a handheld second camera.
Patent application publication 20150340016 relates to reversibly modifying a video for viewing at a lower quality. A decoding method restores the original quality without having to reload the video.
Patent 9,736,368 teaches a camera that is directed to place a remote object in the field of view of the camera. It allows the camera to find objects and people that may be hidden or obscured by other objects, other people or barriers. The camera is a hidden or lost object finder.
Patent application publication 20170323458 teaches a camera, when pointed at a location, determines a location volume related to the location and searches a database for objects located within that location volume and displays on a screen of the camera an outline of objects inside the location volume. The application is called "Camera for Locating Hidden Objects."
The issued patents and published patent applications that describe our inventions can be reviewed at the USPTO website.
Many applications are still alive, even after issuance, by continuations and continuations-in-part. It is your own responsibility to determine the actual status of the portfolio. The portfolio document is provided "as is" for your review and you should not rely on this document to assess the status of individual cases.
The IP may be available for licensing.
Contact us at: IP@spatialcam.com.